Donna, thank you so much for the opportunity to raise my Gracie Pooh.  She is now 3 1/2 months.  She is a light in my family and we absolutely love her.  She's so playful with my four-year-old daughter.  Those two are unbreakable.  I appreciate everything.  Thank you so much.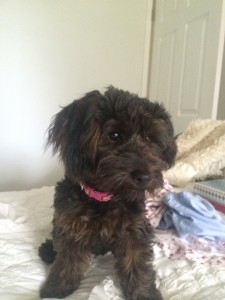 Santana
Hi, Donna!  Hope all is well.  Ace is growing up!  Our first family photo with him:)  He's such a good boy…spoiled rotten!
His first grooming session.  Thank you for giving us a special addition to family!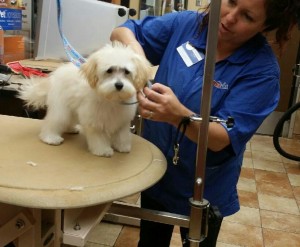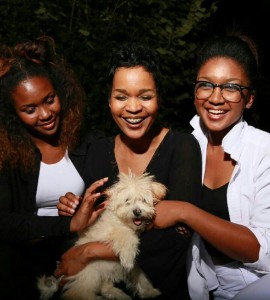 Hi Donna!  We are just getting back and settled from the Christmas Holidays.  Teddy took his first trip to Mississippi to see family and had a great time.  Here are a few pictures of the girls with Teddy.  He is such a blessing to our family!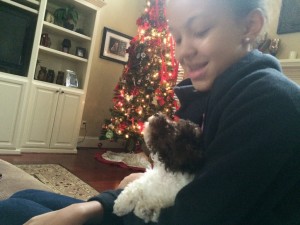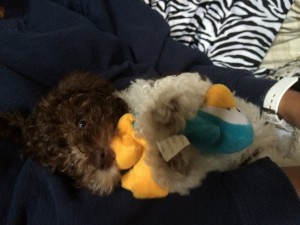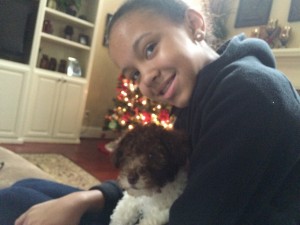 Harold R.
FeBea is the best puppy, playful and cuddly.  She had her first overnight at Grandma's and the kids said she had a great time.  We finally found a good puppy she likes.  She is now 6 1/2 lbs.  She loves to go to the vet because she is the belle of the ball, especially in her Supergirl outfit my husband bought for her.  We have been introducing her to other puppies to socialize her some, because within the next year we will probably call you for another Yorkie.
                                  This is her favorite spot when I'm in the kitchen.  You can't see it, but between  her paws is her teddy bear she carries everywhere.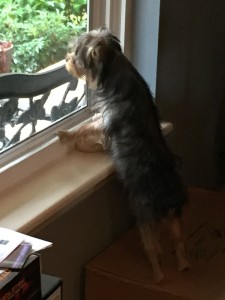 She even likes to help Daddy work.  LOL
The boys decided you should use this picture for an advertisement for your dogs, that you don't just get a good dog from Donna's Kountry Kennels, you get a super dog.  HAHA!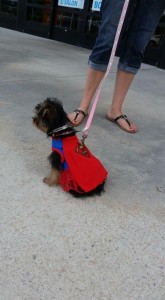 Melanie H.
He is such a great puppy!  He was very healthy and well taken care of when we got him, and he is still doing great!  He is already spoiled rotten and part of the family!  He and my 2-year-old son are inseparable!  We love him so much!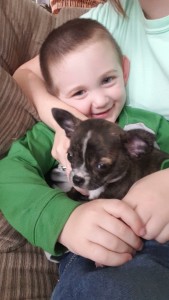 Kirsten
When we found Thor, we weren't exactly looking for a puppy. We had a friend that had been searching for an Applehead Chihuahua pup & had found Donna & her precious Appleheads. My son has always wanted a chihuahua & when my friend posted a photo of her pup's siblings that were also up for adoption, I instantly fell in love. Working with Donna & meeting with her to pick up Thor was one of the best unplanned events in our life since we have now been blessed with a very loving lil pup that has been a dear ever since we first laid eyes on him.
You can tell that Donna spends time w all her fur babies because they are used to being held, loved & cuddled & expect it from you as their new family! I would get a pup from every litter if I could since they are all so incredibly precious! And the price is right! I recommend her to all my friends that are looking for a pup. And of course I will go back to her if I ever want another. For now, our days are filled up with his constant kisses & cuddles & cuteness! None of us can get quite enough!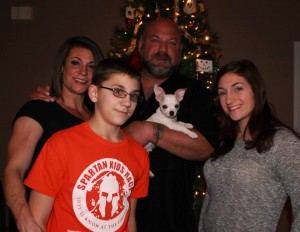 -Tracy Weller
Meet Our Beautiful Bonnie! We got our beautiful Chihuahua Bonnie from Donna Barker! We are so happy that she is apart of our family! She bring us so much joy and Love! And I can't imagine my life without her!!!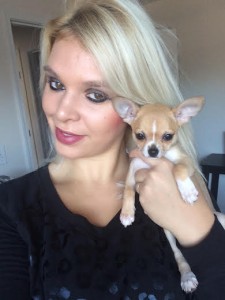 On February 6, 2015, Larry and I adopted "Queen ZIVA Black Pearl" from Donna Barker in Batesburg, SC! ZIVA is a longcoat chihuahua who is a friendly and well-adjusted little darling!! Donna is one of the nicest breeders (and ladies!) I have ever met; and she bends over backwards until puppy and new owner are PERFECT MATCHES!! We are 100% pleased with our new furbaby…and her breeder Donna!!!
-Bet Yon, Lexington, SC
We were looking for a small dog & Donna suggested a Chipoo. We're so happy that we purchased Lily from her. She's a special part of our family after being with us for 7 months. We highly recommend Donna for purchasing a family pet from. She's a very loving care giver to her pets that she breeds & sales. Donna made our experience very easy & professional. I would highly recommend Donna if you are considering a family pet. Thank you Donna for bringing us together with Lily.
-The Grooms
Our little Leeloo is amazing! She is the most precious little girl with a lovely temperament – sweet, playful, friendly, and loves to snuggle. She was very healthy when we got her, and we've had no issues with her since then. Donna was wonderful to work with and readily available to answer questions even after we brought Leeloo home. These pictures were taken after her first grooming session on her 4 month birthday.
-Jennifer & Sam Stubenrouch
I have always wanted a small dog ever since meeting my childhood friends 2 pound teacup chihuahua, but it never worked out until I was told about Donnas Kountry Kennels. I was shown a picture of baby chihuahua and instantly fell in love. I literally counted down the days until I could meet Donna to pick up Nugget (the name totally fits). I always say that you can judge a person by how they treat dogs, and after seeing Donna's affection for her dogs I knew that I had contacted the right breeder. I've now had Nugget for about 3 months and can't imagine life without her. She brings so many laughs and smiles to not only myself, but to everyone that meets her. I will always highly recommend Donna to anyone that is looking for a new fur baby!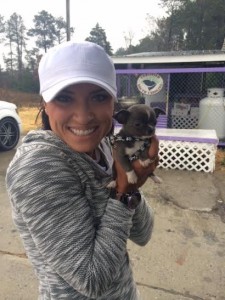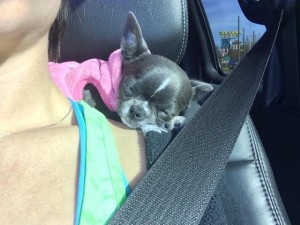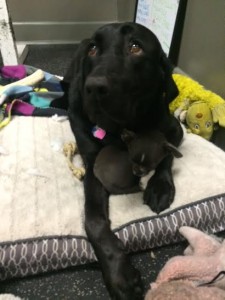 -Megan Olson
We have gotten two wonderful small dogs from Donnas Kountry kennels.  A blonde Chihuahua and  a Japanese Chin.  They are both now a huge part of our family.  Donna is a caring, ethical,  conscientious breeder of small dogs and loves every one of her "family members".  If you're looking for a new fur baby,  this is the place to go!
-Ashley and Danielle Buzhardt
When I first laid eyes on the handsome little fellow he automatically stole my heart! Meet Bentley! He is the most adorable, fashionable, super sweet maltipoo is the world! Mrs. Donna was a big help in explaining everything I needed for him, not to mention he came with his first set of shots. The prices are very reasonable and she definitely keeps her word. Bentley has been happy and healthy since she placed him in my arms! Thank you Mrs. Donna for all your help and placing a new member in our family!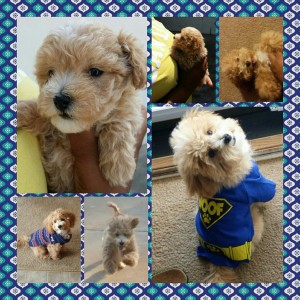 -Tanya
Sage is a great puppy that loves to run and play.  She is growing and is now 3 pounds.  She is spoiled rotten and runs the house.  She is a great addition to our family.  Thanks so much for your help in getting her.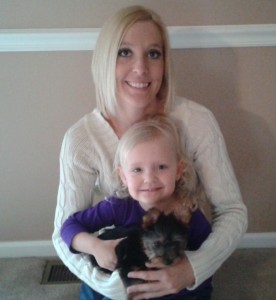 Sophie has made an excellent addition to our family and we couldn't be more in love!  You made it so easy for us during the purchasing process.  For any questions I had you responded quickly and helped in every possible way.  We can't thank you enough!!
With love, The Rogers.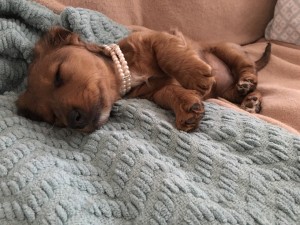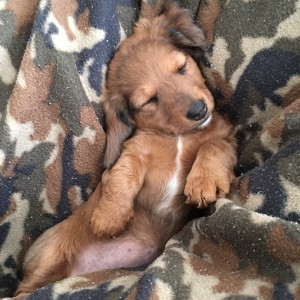 She's pretty spoiled already.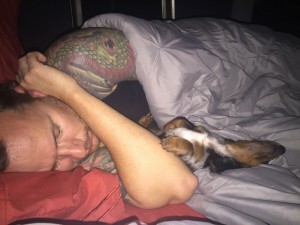 This picture pretty much sums up Rosie and where she likes to be.  She's obsessed with Josh.  She loves all of us, but has to sleep next to Josh, follow him around.  It's cute, and she's adjusted really well with us.  She has such a personality, too!  She rules Josh.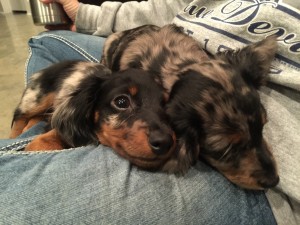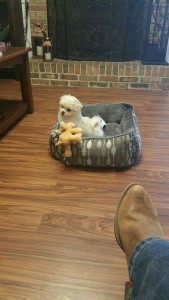 Hi, Donna.  We want to start by thanking you for allowing us to bring Bentley into our home and hearts.  He is an absolute joy to be around.  It is nonstop laughs and playing around the house.  He is almost 3 months old now and growing like a weed.  His true character is really showing through now.  Thank you again for letting him come into our home!!! – Travis, Lesslie & Hunter Blackwell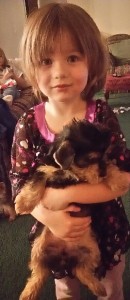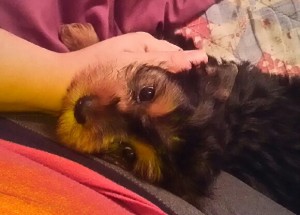 We love Zoey so much!  She's a great little girl!!!
He is adjusting.  We let him meet the other dogs and so far, so good.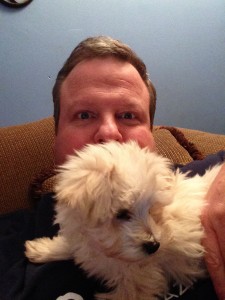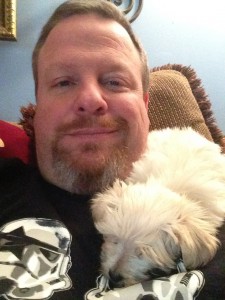 We named him "Ducky" and he is a firecracker.  He already keeps the other dogs on their toes.  He's a ton of fun and full of energy and curiosity.  He will love a pampered life.  He is over 3 lbs now and we love him to death.  I like that you followed up about him.  Makes me know you're a good breeder that actually cares about the dogs.  I have recommended you to others.  – Hank Hession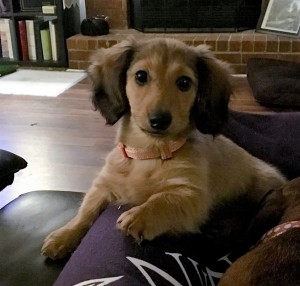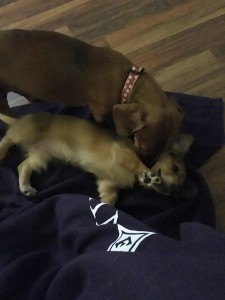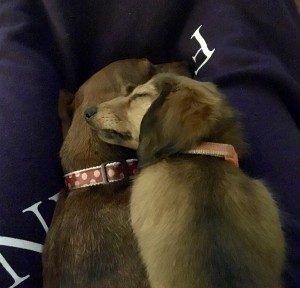 They are amazing together.  Coco is 10 and a rescue.  She can be quite temperamental but has really bonded to Minnie.
We are so thrilled with the sweet pup we got from Donna(Donna's Kountry Kennels).  Our Minnie stole our hearts from the first time we saw her.  Throughout the adoption process Donna faithfully sent us pictures of " our baby" and always promptly answered any(and all) of our questions.  This little girl is a happy, healthy addition to our family and we could not be happier.  So grateful!  Amy Smith Copper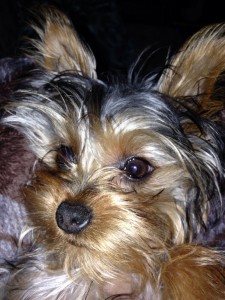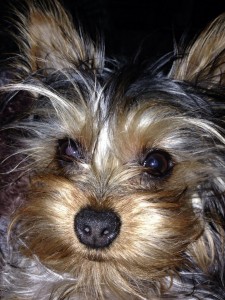 She rules the house.  Sooooo precious, she's a godsend to me and Jimbo.  Precious baby.  Loves to sleep with me.  We went to Florida(drove) and she was better than a child.  Only cried when it was time to pee.  But we did stop at every rest area.  So smart.  Knows how to play me.  Love my girl.
Joann Mastrocesare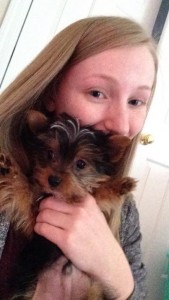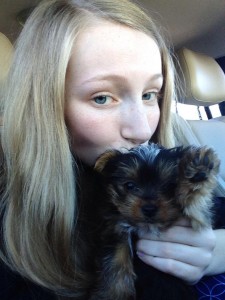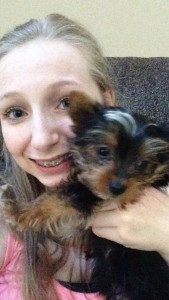 Hi, Donna.  He's doing great.  Perfectly healthy from the vet and training very well so far.  He is a great addition to our family.  You have done a fantastic job.
Chris Keschinger